Posted on: May 26, 2022
Vivalon plans for an ever-older Marin population
Source:  Marinscope
In a county where in less than a decade one in three people will be over the age of 60, a long-envisioned state-of-the-art senior living facility is on the horizon. It's called the Healthy Aging Campus and will provide affordable housing in Downtown San Rafael. It's projected to become a vital healthy aging hub for all of Marin County.
Vivalon (formerly known as Whistlestop), a San Rafael-based nonprofit that advances independence, health and quality of life for older adults and people with disabilities, has announced that it has officially begun the construction of its new Healthy Aging Campus. Vivalon and partner Eden Housing will host a ceremony and celebration to commemorate the official groundbreaking of the campus on Friday, June 3, in downtown San Rafael.
"We have been planning, working and dreaming about this day for years, and it is finally here," said Anne Grey, Vivalon CEO. "This vision from a decade ago is needed now more than ever as the older population in Marin continues to grow, and we're confident the Vivalon Healthy Aging Campus will be a vital healthy aging hub for all of Marin County. I would like to thank the Marin community, our donors, the City of San Rafael, and Eden Housing for supporting the project and allowing us to reach this exciting milestone."
The Vivalon Healthy Aging Campus official groundbreaking ceremony and celebration on June 3 will include the participation of elected officials, including San Rafael Mayor Kate Colin and San Rafael Councilmember Eli Hill. As well as Vivalon CEO Anne Grey, former Vivalon CEO Joe O'Hehir, Eden Housing, Marin Community Foundation, and Marin Housing Authority representatives.
San Rafael Mayor Kate Colin said "Vivalon is an important part of the community, and we are proud that its new Healthy Aging Campus will be located in the heart of downtown San Rafael. Vivalon's high quality programming will continue to serve older adults throughout all of Marin as they help people to thrive as they age. And Vivalon's new affordable housing units will enable residents to stay in our County. We are incredibly fortunate to have this visionary organization in our community."
CAMPUS
The Vivalon Healthy Aging Campus will include 67 units of 100% affordable senior homes, in partnership with Eden Housing, in downtown San Rafael. Additionally, the Vivalon Healthy Aging Campus will include a Healthy Aging and Integrated Care Clinic that will combine traditional medical services with coordinated care, social engagement, learning opportunities, nutrition services, and activities and programs designed to promote healthy aging. The Vivalon Healthy Aging Campus is expected to open in December 2023.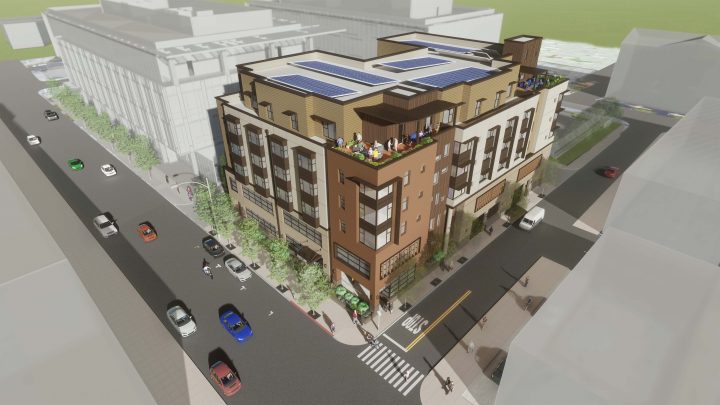 NEW MODEL
Studies show that isolation and loneliness among older adults is closely linked to health issues and early mortality. In Marin County, nearly 50% of households have older adults living alone, and a focus on social connection and support is lacking in the traditional model of care. Marin is also the fastest aging county in the Bay Area. It is estimated that by 2030, one in three people in Marin will be over the age of 60. When Medicare was enacted in 1965, the average life expectancy was 70, but now the fastest growing segment of the population is over 85 years of age. A new model for providing vital services is required to meet the needs of this new and growing demographic.
AFFORDABLE
The recent report "Older Adult Housing in Marin: Planning for 2030," estimates that 7,000 older adults in Marin need affordable homes, and according to Census data, over 16,000 people in Marin over the age of 60 don't have the income to meet their basic needs.
In March 2013, Vivalon selected Eden Housing as its partner for the housing portion of the Healthy Aging Campus project after an extensive vetting process. Vivalon's Healthy Aging Campus will feature 100% affordable units for older residents (age 62 and up), who earn less than 60% of the area median income, at affordable rents ranging from $770 to $1,650 per month. Eden Housing will fund the estimated $38 million construction of the apartments through loans, and local, state, and federal grants.
SUSTAINABLE
Designed by award-winning architecture and urban design firm Van Meter Williams Pollack LLP, the Vivalon Healthy Aging Campus will feature 66 one-bedroom and studio units, plus one additional for a manager, for a total of 67 units. Each residential unit will include a kitchen, bathroom, living, dining, and sleeping spaces. The campus will also feature an air filtration system, back-up power, free Wi-Fi, community rooms, a computer center, resource center, library, lifelong learning classes, and outdoor areas.
The Vivalon Healthy Aging Campus will encompass a sustainable design that features EnergyStar appliances that reduce electricity and water consumption, low flow sink and shower fixtures to conserve water, and landscaping using native and drought-tolerant plants that will save water. Additionally, the campus will be the first car-free community in Marin, promoting civic responsibility, healthy air quality, and reduction of carbon emissions. Transportation for Vivalon members and residents will be provided by Vivalon Rides.
SUPPORT
Local leaders and Marin County philanthropists contributed to the funding of this innovative landmark project. Major funders of the Vivalon Healthy Aging Campus include the City of San Rafael, Marin County, Marin Housing Authority, Susan and Dennis Gilardi, Marin Community Foundation, Eden Housing, Vickie Soulier Foundation, Phoebe Cowles, BioMarin, Raymond James, First Republic Bank, and Housing Trust Silicon Valley.
Posted in: News