Posted on: April 22, 2021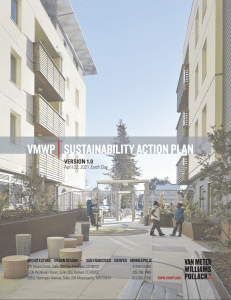 VMWP has committed to the AIA 2030 Challenge and its goal of Carbon Neutral buildings by the year 2030.  Every day, our work strives to address the climate challenge and shape a better future for our community and our planet.  The crisis is accelerating and we must reach beyond our standard practices. With our peers, we pledge to do more and collectively support each other in the process.
Today, Earth Day 2021, as architects and placemakers, we are with hope setting the 2030 Challenge Commitment and excitedly unveiling our Sustainability Action Plan.
We invite you to learn more about the AIA 2030 Challenge and VMWP's Commitment.
Posted in: News