Posted on: June 30, 2022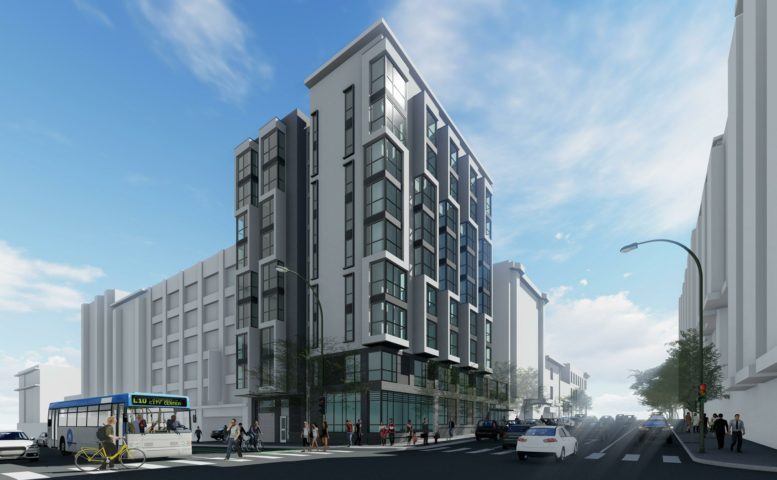 Mayor London N. Breed, representatives from the California Department of Housing and Community Development, and local community leaders recently celebrated the groundbreaking for an affordable housing project at 180 Jones Street in Tenderloin, San Francisco. The project proposal includes the development of 70 100% affordable homes for the unhoused.
Tenderloin Neighborhood Development Corporation (TNDC) is the project developer. Cahill Contractors is responsible for the construction.
The project will bring 70 100% affordable homes for low-income residents. The project will be a nine-story building spanning an area of 38,500 square feet. In addition to an on-site manager unit and the 35 subsidized units for adults exiting homelessness, 34 units will serve low-income residents making between 40% and 65% of the area's median income.
The project is a part of Mayor Breed's goal to build 5,000 new homes at all levels of affordability each year, and builds on her Homelessness Recovery Plan, enacted in July 2020, to expand housing and shelter options over two years for the unhoused, including the largest expansion of permanent supportive housing in 20 years.
Onsite amenities will include a ground-floor community room, tenant lobby, property management with 24-hour desk clerk, on-site social workers, free fiber internet (courtesy of the City's Fiber to Housing program), and a second-story landscaped courtyard open to the street, providing much needed green relief to the dense urban neighborhood. Additionally, the project seeks a LEED Gold Certification, and features a mural honoring the Tenderloin's history.
The development received financing from the Mayor's Office of Housing and Community Development (MOHCD) and the California Department of Housing and Community Development (HCD). The project received a Multifamily Housing Program (MHP) award and California Housing Accelerator Tier 1 funds, made available through the Coronavirus State Fiscal Recovery Fund (CSFRF) established by the federal American Rescue Plan Act of 2021 (ARPA). The project was awarded $23.8 million in Accelerator funds on February 3, 2022, making it the second California Housing Accelerator Fund deal to close in San Francisco.
The developer is providing in-house property management and social services to ensure future tenants have a built-in support network to help them adjust to their new home and remain stably housed. Cahill Contractors has pledged that 30% of all construction trade work and 50% of apprentice work at 180 Jones will be performed by local residents. Cahill will partner with the Office of Economic and Workforce Development's CityBuild program on workforce referral and training initiatives. Local firms Silicon Valley Bank, Van Meter Williams Pollack LLP (VMWP), Waypoint Consulting, and Gubb & Barshay were also enlisted on the project.
It is anticipated that 180 Jones will be move-in ready by late 2023. The project site is located on the southwest corner of Jones Street and Turk Street.
Source: SF YIMBY
Posted in: News