Posted on: May 11, 2021
In April 1989, before VMWP was founded, Tim Van Meter and Rick Williams competed and won the design competition for the City College of San Francisco, redesigning the use of the disputed Balboa Reservoir parking lot. This 32-year-old winning masterplan featured a plaza connecting the two sides of Phelan Avenue and included a performing arts complex.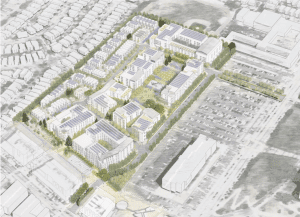 Fast forward 3 more decades and the project is finally approved in August of 2020. "This has been a long time coming," said Board of Supervisors President Norman Yee, who spearheaded the project at the board. Mayor London Breed finalized the agreement making 550 of the 1,100 units affordable, and 150 of the units will be set aside for City College teachers and staff. It will also include 4 acres of open space, a large childcare center, a community center, and $10 million in fees to the city for transit and infrastructure improvements.
For the next phase of the project, VMWP is proud to have been selected as the architects for Building E, which will provide much-needed affordable housing to 124 families and a neighborhood community room near City College of San Francisco. The project's sustainability goals reflect San Francisco's Sustainable Neighborhood Framework (SNF), supporting the City's commitment to be a net-zero city by 2050. Together with partner Y.A. studios, this Phase I housing will be designed to improve resilience, reduce water, energy and resource use and decrease the embodied carbon footprint.
In 1989, the parking lot was not yet owned by City College of San Francisco and Tim Van Meter and Rick Williams had not yet begun VMWP, but one led to the other's formation. VMWP has been linked to Balboa Reservoir since its inception and we are honored to work on it today.
Posted in: News