Posted on: October 13, 2023
Denver Regional Council of Governments (DRCOG) has honored Maiker Housing's Crossing Pointe North and South with the 2023 Metro Vision Award for housing.
The Metro Vision Awards recognize excellence, innovation, collaboration and leadership in problem-solving among communities and their partners. Honorees include the programs, projects and plans that bring business leaders, elected officials, community advocates and residents together to accomplish more than any partner could achieve alone.
Project Crossing Pointe focused transcript below:
Maiker Housing Partners Crossing Pointe provided much needed housing options to residents. [It exemplifies] that call with [their] commitment to affordability, diversity, well-being, and sustainability.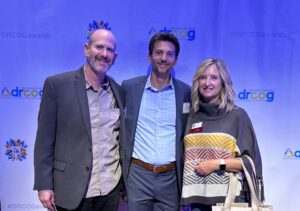 Creating a vibrant affordable and healthy multigenerational community is the vision for Maiker Housing Partners' Crossing Pointe.
Located in the City of Thornton, Crossing Pointe North was built as a transit-oriented development with direct access to the Regional Transportation District or RTD N Line at the Thornton Crossroads Station. The development has 64 rental apartments that are age and income restricted and within a mile of grocery stores, walking trails, and the Thornton Active Adult Center.
Crossing Pointe South will finish construction in Fall 2023 and will feature 142 family units. When complete, there will be 206 affordable housing units for a wide range of residents including older adults with incomes at or below 30 to 70% of the area median income.
"In affordable housing, we strive to be able to minimize financial barriers for our members our tenants to be able to have an opportunity to be able to pencil out their basic needs and stay securely housed. It's not just about getting heads and beds, we try to keep them there. And so by providing such close proximity to transit, gives another opportunity for members to be able to balance their budgets and do so in a way that works for their individual lives."
Peter LiFari, CEO of Maiker Housing Partners
"We took a multi-generational approach and we really wanted to incorporate both seniors and families in one cohesive development. And for the seniors in particular, this area has seen seniors age and not have a place where they can move into. So providing senior housing locally, we were able to have a place where seniors could stay in the community that they've lived in for decades."
Steve Kunshier, VP – Real Estate, Maiker Housing Partner
To learn more
Crossing Pointe North: VMWP LINK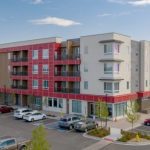 Team: VMWP, Maiker Housing Partners, Milender White, Outside L.A., KL&A, Boulder Engineering, Entitlement Engineering Services, Group14
Crossing Pointe South: VMWP LINK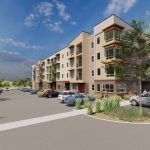 Crossing Pointe South Team: Maiker Housing Partners, Peter LiFari, Steven Kunshier; Van Meter Williams Pollack, Brett Jacques, Jeos Oreamuno; JHL Constructors, Jason Bergey, Douglas Dreier; Enterprise Green Community; Group14 Engineering; PBC, Josh Marceau