Posted on: June 18, 2021
As an extension to VMWP's commitment to the AIA 2030 Challenge and to echo the goals and action items in our most recent Sustainability Action Plan (SAP), VMWP's staff is busy getting their feet in the field, seeing what it takes to participate in the Living Building Challenge (LBC). LBC is a sustainability certification based on the principles and philosophy of the International Living Future Institute (ILFI). VMWP's Ben Chuaqui and Guillermo Salazar presented to the firm, explaining the hurdles and roadblocks they have had to overcome since beginning the challenge with their project 180 Jones.

180 Jones, being one of our affordable housing pilot projects with the Living Building Challenge, is pushing the sustainability boundaries with limited resources. It is a challenging task to implement the necessary LBC goals on an affordable and all-electric building on a very small urban site. We have found that this rating system is so far ahead of the industry that the manufacturers are having to create documentation that does not yet exist. "Often the architect ends up reaching out to manufacturers to see if there's any interest to get the certification," says Guillermo Salazar who is Job Captain on 180 Jones. The team is finding that it takes time to lobby for the necessary documentation. "Another challenge is that, as part of the minimum requirements to get the LBC certification, you need to have 90% of the cost in certified products," says Guillermo. The VMWP team has found that, as opposed to a few other popular sustainability certification consultants, the dearth of LBC consultants requires the design teams to have greater initiative and spend a lot of time on material and manufacturer research.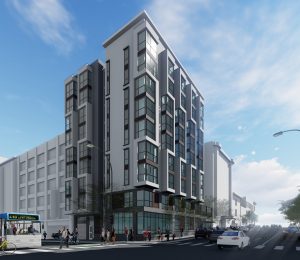 This is the reality for most projects since there are not many compliant products in the market, especially within the affordable housing market. "We are really figuring things out as we go", says Ben Chuaqui who is the Project Architect on 180 Jones. "You can compare this effort with the pursuit of LEED certification (Gold) that we are doing for this same building, where you can see a clearer path with many certified products to choose from and having the aid of our LEED consultant. We hope that the LBC implementation process will evolve in a similar way," adds Chuaqui.
In its 40-year history, TNDC has consistently pushed the boundary towards sustainability. TNDC and VMWP together are meeting the aspirational challenge, are reinventing ourselves, and are looking forward to sharing our process with the industry in hopes that collaboration may bring us to meet the challenge together, faster.
Posted in: News