Posted on: December 31, 2020
VMWP has good news for our non-profit clients after a challenging year. All four of VMWP's submitted projects in Colorado were funded for the highly-competitive Federal Low Income Housing Tax Credits: Allison Village, Mercy Colfax, Crossing Pointe South, and Montbello FreshLo. This represents 1/3 of the affordable housing units awarded by CHFA in 2020!
Allison Village is an existing 37-unit apartment community constructed in 1980. The new Allison Village will increase density with 100 new dwelling units featuring a mixture of walkups and private entry through the building's lobby and two-story common space. The project creates several interesting gathering spaces along the urban park, utilizing the 2-story bridge and the second-story outdoor deck as core design features.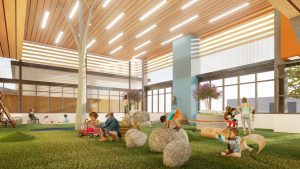 Mercy Colfax is a .82 acre, 81 unit affordable family-oriented dwelling redevelopment. The site is located along a major transportation corridor within the East Colfax Neighborhood, a mixed-use urban district. Approximately 5,500 square feet of ground-floor space will house an early childhood education center (ECE). Services will be provided by Mercy Housing for all residents and wrap-around services will be provided to the children attending the ECE and their families.

Crossing Pointe South is an affordable family housing community located adjacent to the Colorado & 104th St. light rail station in Thornton, Colorado. Though the affordable housing project is within walking distance of community-serving retail, the site is bound by permanent open space on two sides. The building features and courtyards both encourage community building and promote a healthy lifestyle by providing spaces for interaction and healthy activities like vegetable gardens and gathering plazas.
The mixed-use Montbello FreshLo building redevelops an infill 1.6 acre former RTD bus storage site, that is adjacent to commercial, residential, healthcare and open space uses. The 7 story structure consists of 5 levels of 97 units of family affordable housing sitting on top of two levels of a fresh food grocery. Montbello FreshLo is designed to achieve not just multiple community benefits, but also achieve a National Green Building Standard Silver Rating with a full focus on Health and Wellness.
Posted in: News