Posted on: December 31, 2020
PRESS RELEASE
FOR IMMEDIATE RELEASE- February 3, 2021
VMWP DENVER'S AFFORDABLE HOUSING GRAND SLAM
Van Meter Williams Pollack's funded projects represent a lion's share
of the affordable housing units awarded by CHFA in 2020.
Denver, Colorado – Van Meter Williams Pollack has good news for our non-profit clients after a challenging year. All four of VMWP's submitted projects in Colorado were funded for the highly competitive Federal Low Income Housing Tax Credits: Allison Village, Mercy Colfax, Crossing Pointe South, and Montbello FreshLo. This represents a lion's share of the affordable housing units awarded by CHFA in 2020.
"Typically, a significant amount of the projects are eliminated in the first round and a few of what is left over gets funded in the second round." says Tim Van Meter, founding Partner of VMWP. "Our clients' projects were able to get funded because the developments were super competitive, well thought out, and they transcend beyond just housing. ""VMWP Denver will be busy making these the best places possible in 2021 and 2022."
Affordable Housing and Job Training for Aging-Out Foster Teens, Arvada, CO
Allison Village is an existing 37-unit. 1.5-acre apartment community constructed in 1980. The new Allison Village will increase density with 100 new dwelling units featuring a mixture of walkups and flats. The design creates several interesting gathering spaces along an urban park, utilizing the 2-story bridge and the second-story outdoor deck as core design features.
• Client: Foothills Regional Housing [formerly, Jefferson County Housing Authority]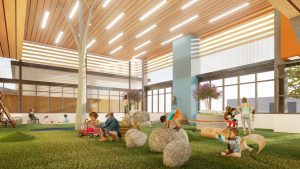 Affordable Housing and Early Childhood Education Center that replaces an infamous adult club on East Colfax, Denver, CO
Mercy Colfax is a .82-acre, 81-unit affordable family-oriented dwelling redevelopment. The site is located along a major transportation corridor within the East Colfax Neighborhood, a mixed-use urban district. Approximately 5,500 square feet of ground-floor space will house an early childhood education center (ECE). Services will be provided by Mercy Housing for all residents and wrap-around services will be provided to the children attending the ECE and their families.
• Client: Mercy Housing

Multi-Generational Affordable Housing, Thornton, CO
Crossing Pointe South, a 142 unit affordable family housing is joining the recently completed Crossing Pointe North community, a 63 unit, senior affordable housing. The Crossing Pointe community is located adjacent to the Colorado & 104th St. light rail station in Thornton, Colorado. Though the affordable housing project is within walking distance of community-serving retail, the site is bound by permanent open space on two sides. The building features and courtyards both encourage community building and promote a healthy lifestyle by providing spaces for interaction and healthy activities like vegetable gardens and gathering plazas.
• Client: Maiker Housing Partners [formerly, Adams County Housing Authority]
Affordable Housing, Fresh Food Grocery, Community Theatre, and Health & Wellness Community Hub, Denver, CO
VMWP, in concert with Roybal Corp. are designing the mixed-use Montbello FreshLo building redevelops an infill 1.6-acre former RTD bus storage site, that is adjacent to commercial, residential, healthcare and open space uses. The 7-story structure consists of 5 levels of 97 units of family affordable housing sitting on top of two levels (42,000 sf) that includes a fresh food grocery, a community theatre, and a health & wellness center. Montbello FreshLo is designed to achieve not just multiple community benefits, but also achieve a National Green Building Standard Silver Rating with a full focus on health and wellness.
• Client: FLO Development Services, LLC
About Van Meter Williams Pollack, LLP:
Van Meter Williams Pollack is an award-winning Architecture and Urban Design firm based in San Francisco, Denver, and Minneapolis. Since 1989 we have provided a full range of comprehensive design and planning services for a variety of project types, scales and clients.
VMWP specializes in affordable housing, mixed-use and market-rate housing, master planning, land use and zoning standards that help communities accommodate change. VMWP's comprehensive and innovative design approach considers environmental, social, economic, and client needs to create buildings and communities that resonate with people. From small towns grappling with pressures of sprawl, to major urban centers requiring infill and redevelopment, one of our strengths is the ability to work in the variety of communities that make up diverse, growing regions.
We integrate client needs into sustainable design solutions that address climate resilience, social and economic equity, to create beautiful, inspiring communities and places for people to live and thrive.
###
Contact: Hayley Wrubel, Marketing Director
Company: Van Meter Williams Pollack, LLP
Phone: 415-974-5352 x205
Email: hayley@vmwp.com
Website: www.vmwp.com
Contact: Tim Van Meter, Partner / Architect & Urban Designer
Company: Van Meter Williams Pollack, LLP
Phone: 303-298-1480 x18
Email: tim@vmwp.com
Website: www.vmwp.com
Posted in: News